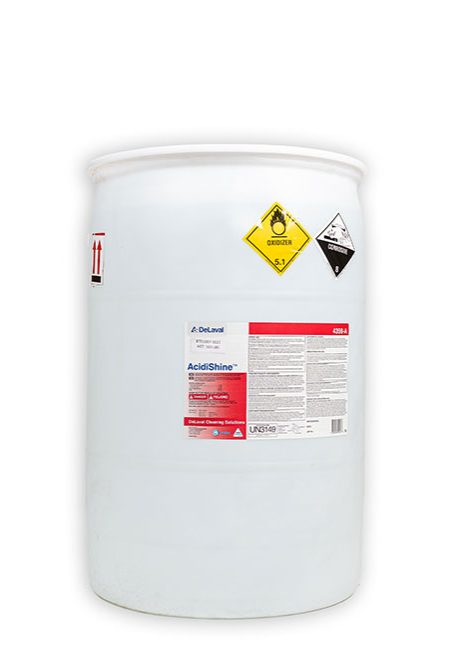 AcidiShine™
(4398)
AcidiShine™ is a uniquely formulated no rinse, non-foaming, low pH sanitizer that provides both broad spectrum germicidal action along with descaling properties at temperatures as low as 40°F. AcidiShine™ is EPA registered for sanitizing non-porous food contact surfaces over a variety of industries. When used according to directions, it will not impact color, taste or odor of food and beverage products. It is also very environmentally friendly, ultimately breaking down to water, oxygen, and carbon. AcidiShine™ can be used through CIP and COP systems as well as foaming and fogging applications. It uses a powerful combination of peroxyacetic acid, hydrogen peroxide and another unique acid. This formulation provides broad spectrum sanitizing with antimicrobial efficacy against bacterial pathogens, yeasts and viruses in a variety of food contact and non food contact applications. The formula also provides excellent descaling of surfaces not usually associated with this class of sanitizers. AcidiShine™'s unique formula allows dosage control by conductivity methods in CIP/COP systems thus providing cost effectiveness when compared with conventional dosing methods.
Rapidyne®
(1876)
Rapidyne® is a low-foaming, liquid iodophor sanitizer in a super-concentrated formulation. It is especially suited for continuous or automatic feeding of central sanitizing systems where the super-concentrated strength results in the highest cost efficiency of any iodine sanitizer. This product is low-foaming and promotes faster drainage
Premium Dioxide 3000
(2225)
Premium Dioxide 3000 is a concentrated, ready-to-use chlorine dioxide aqueous solution. This product obviates on-site production equipment; it requires no mixing or "activation", which simplifies chlorine dioxide application for small to medium volume users and provides a safety aspect not found with self-generation.
Premium Peroxide III™
(2070)
Premium Peroxide III™ uses the powerful combination of peroxyacetic acid and hydrogen peroxide to provide effective broad spectrum germicidal action as low as 40°F. This product is a non-foaming, no-rinse formula which can be used over a broad range of temperatures and pH without being corrosive to stainless steel. Premium Peroxide III™ is EPA Registered for sanitizing non-porous food contact surfaces and FDA Approved as indirect food additive. When used as directed it will not impact color, taste, or odor of your product and is environmentally friendly, ultimately breaking down to water, oxygen and carbon. It is designed for use in circulation cleaning and industrial sanitizing of tanks, pipelines, fillers, vats, filters, evaporators, pasteurizers, and aseptic equipment in dairies, breweries, wineries, beverage and food processing/ packing plants, egg processing/packing equipment surfaces and eating establishments.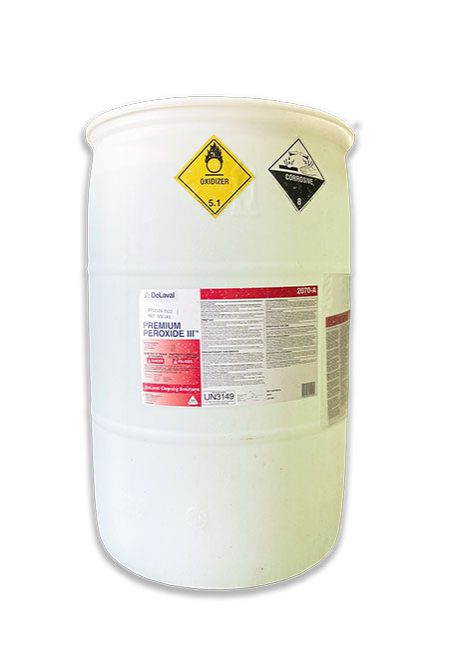 Set up a plant audit today
The objective of our sanitation programs is to increase your working knowledge of sanitation and sanitation practices as they relate to the dairy, food, and beverage processing and packaging industries.
Part of the Tetra Laval group
DeLaval is part of the Tetra Laval family alongside worldwide players in the food and packing industry, Tetra Pak and Sidel.