One Step Acid™
(1812)
One Step Acid is a low-foaming liquid acid cleaner specifically designed for spray and CIP cleaning or all purpose tanks, lines and all stainless steel equipment. One Step Acid removes butterfat, milkstone, proteins, and food soils from equipment in dairy and food processing plants and is designed as a replacement for traditional multi-step chlorinated alkaline cleaning. DeLaval chemists have combined the detergent cycle and the acid cycle into one, saving time in the CIP process that can lead to a multitude of benefits.
AcidKlean™ LF
(2080)
AcidKlean™ LF is a powerful acid detergent that has a broad range of cleaning applications as well as being specifically designed for cleaning in a brewery environment. It is a dynamic acid detergent that provides a convenient low-foam alternative to similar acid detergents. Its low-foam nature enables convenient transport, transfer, pumping, and overall usage of the product. Specifically designed for stone, scale, and film removal, AcidKlean™ LF is primed to remove rust and stains while remaining free draining. The surfactant in this product's formula was designed so that it could be used for cleaning brewery tanks without damaging the CO2 layer above finished beer. While AcidKlean™ LF was originally designed for breweries, it has a broad cleaning range that allows it to be effective in any food processing plant whether it is used to soak food processing equipment, as a manual scrubbing acid detergent, or in an automated cleaning cycle as an acid wash step.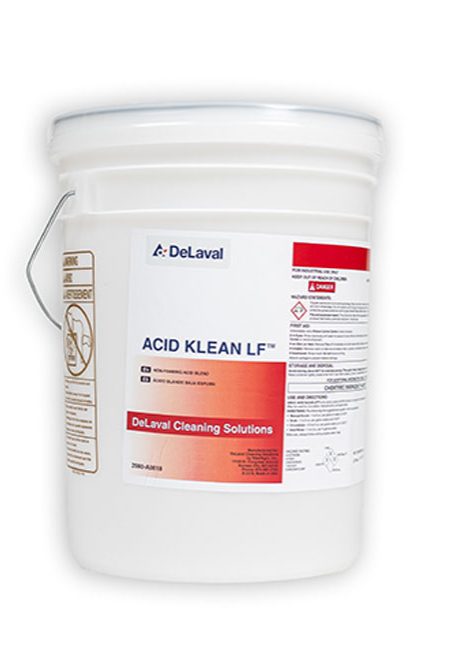 Set up a plant audit today
The objective of our sanitation programs is to increase your working knowledge of sanitation and sanitation practices as they relate to the dairy, food, and beverage processing and packaging industries.
Part of the Tetra Laval group
DeLaval is part of the Tetra Laval family alongside worldwide players in the food and packing industry, Tetra Pak and Sidel.