Your processing facility is unique, the same should be true of your cleaning program!
With a wide range of chemistry and support services DeLaval Cleaning Solutions (DCS) can ensure consistent, reliable, and efficient cleaning and sanitizing of your production facility. Our solutions can help you improve your product quality, increase shelf life, meet and exceed government regulatory guidelines, and save money by reducing your labor, chemical, and utility expenses. Our chemistry is designed to clean and sanitize all types of surfaces regardless of their material of construction, including stainless and soft metals.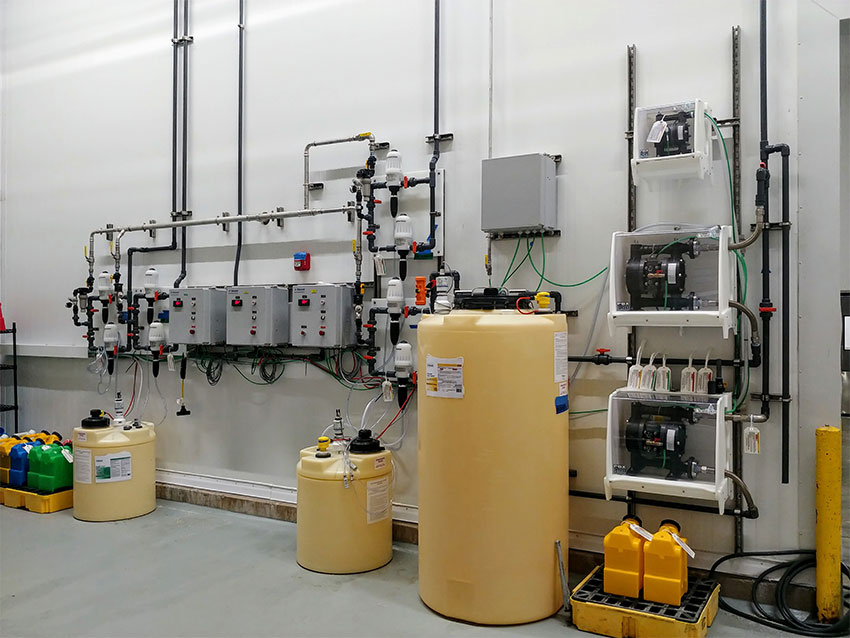 Example of custom chemical system built by our engineering team.
What sets DCS apart is our ability to tailor solutions to your specific plant needs. Our field service professionals, R&D team, and engineers are continuously working together to create new chemistries and automation systems to match the constant evolution of market needs. Included are some of our most recent additions and specialty solutions.
Set up a plant audit today
The objective of our sanitation programs is to increase your working knowledge of sanitation and sanitation practices as they relate to the dairy, food, and beverage processing and packaging industries.
Part of the Tetra Laval group
DeLaval is part of the Tetra Laval family alongside worldwide players in the food and packing industry, Tetra Pak and Sidel.