DeLaval launches AcidiShine™
New 2-in-1 acid sanitizer features greater efficacy, stability and dosing control  
Bannockburn, IL (4 April 2017) ­­− DeLaval introduced AcidiShine™, a new peroxyacetic acid (PAA) sanitizer, today at ProFood Tech in Chicago. AcidiShine offers the microbiological sanitizing power of conventional PAA-based sanitizers but features a unique formulation greatly improving its efficacy and stability.
"In developing AcidiShine, we wanted to maintain the sanitizing power of a PAA-based solution but make it easier for customers to handle and store the product," said Steve Harris, Sales Director for DeLaval Cleaning Solutions. "With AcidiShine, there's no need for the safety controls or guards which currently are required of other PAA-based sanitizers on the market today."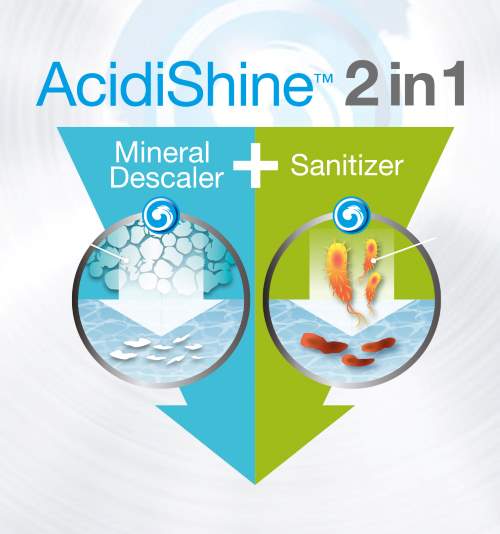 In third-party lab testing on pressure build-up upon contact with organic materials and metals, AcidiShine outperformed other PAA-based sanitizers of comparable composition:
"AcidiShine is clearly a less reactive formulation while still being an effective PAA-based sanitizer, which we think will give customers greater peace of mind in using the product," Harris concluded.
Designed for a variety of food and beverage processing applications, AcidiShine can help save time and expense by combining the acid rinse and sanitizing steps into one. Furthermore, when used to sanitize a clean in place (CIP) system, AcidiShine can be controlled by conductivity, giving the operator greater flexibility in dosing the product – and possibly contributing to better cost efficiency.
Not only is AcidiShine™ an aggressive, broad spectrum sanitizer with greater than 99.999% bacterial kill rate within one minute, but it is also friendly for the environment, breaking down into vinegar and water.
For more information:
Reach out to DCS-Marcom@delaval.com
About DeLaval
DeLaval is a world-class leader in solutions and technologies for cleaning, sanitizing, and disinfecting applications for all dairy, food, and beverage processing industries. We take pride in providing a level of service that sets the standard for excellence within our industry.
Our cleaning solutions range is a department of DeLaval Inc., part of the Tetra Laval Group. Other divisions of Tetra Laval include Tetra Pak and Sidel – both known worldwide in the food packaging industry.
How effective is your sanitation process?
Schedule a plant audit with one of our sanitation solution professionals.
Part of the Tetra Laval group
DeLaval is part of the Tetra Laval family alongside worldwide players in the food and packing industry, Tetra Pak and Sidel.